Beyond Limits Dumfries & Galloway staff
This page has information about our staff in Dumfries & Galloway.
Pat Burnett, Service Leader
I have worked within social care for most of my working life. I started my first job in care as a support worker, working in an old people nursing home. I then moved on to working closely with people on a one to one basis mostly living in their own homes with varying degrees of support needs. This gave me a flavour for the difference that can be made in people's lives if they are given the right support. I lead a busy life with my family, enjoy playing Tennis and Pickleball which is a game I learned to play on holiday in California. I loved it so much I decided to introduce it at my local Community Centre. It has been a huge hit, and we now run four sessions a week. With the inspiration of Beyond Limits in Plymouth I have set up Beyond Limits Dumfries & Galloway. Based on the same person centred principles we offer the same level of support, in keeping with our values and beliefs. I am very familiar with the local area, know lots of people and I am looking forward to the next chapter in the Journey of Life.
Rosalind Watt, Operations Co-ordinator
Rosalind Watt – Administration Assistant. I have worked within the Third Sector for over 20 years for two different charities initially in admin and finance but later including support work within my role. I had just been offered a new job with another charity when I was diagnosed with breast cancer so I gave up the new job. I took a year off to go through my treatment and in that time I bumped into Pat, Service Leader of Beyond Limits Dumfries & Galloway. I knew Pat from working with her previously. She mentioned she didn't have any admin support, I offered my services as I didn't have a job to go back to after treatment finished and the rest is history. This is a completely new sector for me. Having supported people using Health and Council services and then unpaid Carers, it is interesting to see how it all works from the other side. I love helping and supporting people and I feel that even though this is a new sector for me, I am still helping to provide support.
I have two grown-up children, one living in London and the other in Liverpool, two of my favourite cities. They both work within the arts and perform in their spare time, my daughter being in an amateur dramatic theatre company and my son being the front man for his own band. Having a passion for theatre and live music, I really enjoy going to see them perform. I also have a Dalmatian and she is my therapy. I'm a very positive person that enjoys life but having had cancer, there are moments when the fear of it coming back can be a bit overwhelming. My gorgeous Polly is my therapy and we walk miles together which really helps with the mental and physical health and wellbeing.
I love working at Beyond Limits. I have a huge amount of respect for the ethos of the organisation and I work with an amazing team who are passionate about what they do. I look forward to supporting Pat and the team for a long time to come.
Ainslie Armstrong, Support Worker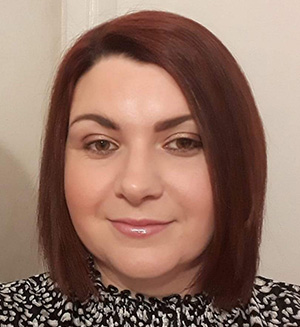 I have always been interested in working with people and after leaving school I went on to complete my HNC in childcare and early education. I worked as a nursery practitioner and really loved my job and working with children.
My life changed when I had my 2 beautiful girls, and whilst they were growing up I just did some cleaning jobs, recently my youngest has started school and I decided it was time for me to do something for me. Thanks to Beyond Limits I am now doing a job I love again, working with and supporting people in our local area is such a rewarding job, it has definitely brought the best out in me.
June Garthwaite – Support Worker
I started my career in care in 2004 at a local care home, I really enjoyed my job and felt it was very home from home. However, due to unforeseen circumstances the home closed and my heart wasn't in caring anymore and so I went on to housekeeping jobs.
I noticed a while later though that an opportunity came up to work with Beyond Limits, I applied and got the position and I am so glad to be part of the team and I am really enjoying this work again. When not working, I enjoy days with family, weekends away and walking my dogs.
Madhia Gemie – Support Worker
I'm a busy Mum of 4 young adults and I love spending my spare time with friends and family. My hobbies are gardening, cooking, amateur dramatics, theatre, and music concerts. Whenever I get the chance, I also love dancing. I have a bright & bubbly personality and love to talk, but I'm a good listener too. I enjoy keeping fit by walking, swimming and I like to relax by taking part in Pilates and Yoga.
I have over 23 years' experience caring and supporting people with a variety of disabilities. Whilst raising my family, I enjoyed working part time as a carer and developed a passion for care and support services. This led to me attain an SVQ Level 3 qualification in Health and Social Care. Working for Beyond Limits over the last 3 years has helped me progress my knowledge and understanding in this line of work. The team support and training they offer is second to none and I really enjoy working for them.